Parkopedia Celebrates Industry Award Wins
Market-leading connected vehicle services provider, Parkopedia has recently won a host of leading industry awards including 'Smart Parking Company of the Year' at the AutoTech Breakthrough Awards. The awards recognise the standout companies, products and services in the global automotive and transportation technology industry. Parkopedia's industry-leading parking data helps drivers find, reserve and pay for over 70 million parking spaces in 15,000 cities across 89 countries, and is currently used by millions of drivers and organizations such as Audi, Apple, BMW, Ford, GM, Hyundai Kia, Jaguar Land Rover, Mercedes-Benz, Peugeot, TomTom, Toyota, Volkswagen, and many others.
This year, Parkopedia launched its integrated payment platform, which solves the time consuming and expensive task for automakers of aggregating a large number of suppliers and payment providers into a single platform, giving drivers extensive choice and convenience for vehicle-centric purchases such as parking, EV charging, tolling and 'pay-at-the-pump' fuelling. Parkopedia has now made history with the payment platform being awarded the Juniper Research Future Digital Platinum Award for 'In-vehicle Payment Innovation' - the highest accolade in this category.
The Juniper Research Future Digital Awards, which have been running since 2008, recognise organisations that have made outstanding contributions to their industry and are positioned to make a significant impact in the future, as well as celebrating technology companies at the forefront of their respective fields, with imaginative, innovative products or services that have the potential to disrupt their ecosystems and provide significant benefits to their target audience. This is the first time an in-car solution has won in the history of the Fintech and Payments focused awards, with previous winners including Amazon, IBM, Microsoft, Mastercard and PayPal.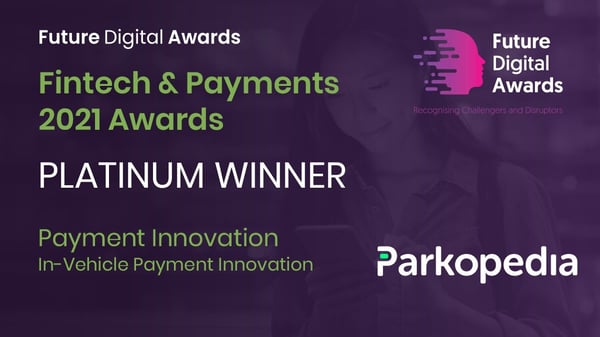 Parkopedia was also honoured this month to win the 2021 British Parking Awards 'Campaign Award' and the 'Positive Response to the Pandemic Award' for its 'NHS parking microsite'. Launched in 2002, The British Parking Awards recognise and celebrate best practice, innovation and achievement in both public and private sector parking.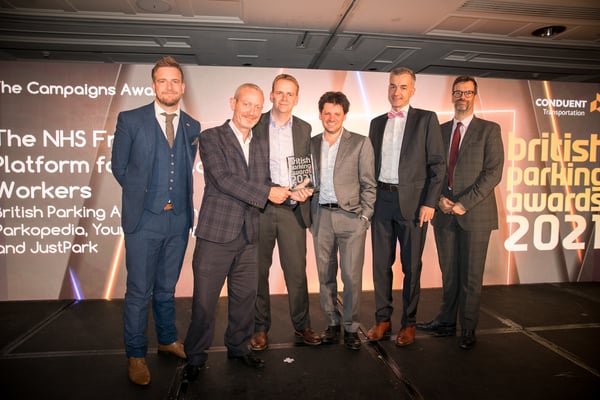 Last year, Parkopedia joined forces with The British Parking Association, YourParkingSpace and JustPark, to launch a dedicated microsite allowing the UK's National Health Service (NHS) employees and volunteers to find free parking locations quickly and easily during the the pandemic.
The free to use microsite, contained more than one million parking spaces at car parks, privately owned spaces and driveways across England to support NHS England staff with their parking demands around the UK during this time.
Sign up to keep updated on the latest news from Parkopedia