Parkopedia Payment Platform wins Juniper Research 2021 Future Digital Platinum Award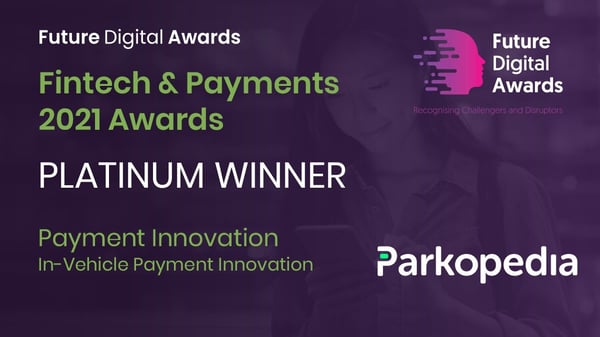 Parkopedia has been officially recognised as the market leader for in-car transactions by leading technology analyst firm, Juniper Research in their 2021 'Future Digital Awards' across Fintech and Payments.
Parkopedia's in-car payment platform, which helps drivers find and pay for parking, EV charging, fuelling and tolls in 15,000 cities across 89 countries, has been named as the 'platinum winner' of Juniper Research's Future Digital Award for 'In-vehicle Payment Innovation' - the highest accolade in this category. Previous winners of the awards include Amazon, IBM, Microsoft, Mastercard and PayPal, with Parkopedia's payment platform being the first time a dedicated in-car solution has won in their awards history.
By solving the time consuming and expensive task for automakers of aggregating a large number of suppliers and payment providers into a single platform, Parkopedia gives drivers extensive choice and convenience for vehicle-centric purchases.
Building on the company's existing market-leading parking solution and providing a neutral in-car platform for transaction providers, the integrated platform is a first for the industry, featuring 'pay-at-the-pump' for fuel, automated tolling payments, and EV-charging capabilities to activate and pay for charging, catering for the vast majority of all in-vehicle payments expected in the future.
The Juniper Research Future Digital Awards, which have been running since 2008, recognise organisations that have made outstanding contributions to their industry and are positioned to make a significant impact in the future, as well as celebrating technology companies at the forefront of their respective fields, with imaginative, innovative products or services that have the potential to disrupt their ecosystems and provide significant benefits to their target audience.
Parkopedia provides in-vehicle payment services to major automakers such as Mercedes-Benz, BMW, Volkswagen, Honda, Subaru, Toyota, and more, facilitating in-car transactions to millions of drivers around the world.
Congratulations to all of this year's winners, featuring Mastercard, Huawei, Apple, Goldman Sachs, Experian, Giesecke+Devrient, Paytm, ACI Worldwide and more.
To see the full list of 2021 winners or read more about the awards, click here
Sign up to keep updated on the latest news from Parkopedia